Hit the right temperature
Learn how one customer used our vortex cooler solution to cool high-temperature samples without water.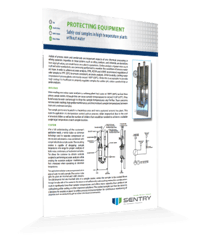 EPRI, ASTM and ASME recommend cooling water samples to 77°F (25°C) for accurate and consistent sampling. But what if it's impractical to cool high-temp samples with water?
Enter the vortex cooler.
A vortex tube separates compressed air into hot and cool streams. Combined with a single helical tube sample cooler, it results in significantly lower final sample temperatures and offers more capacity than ambient air cooling alone or peltier cooling.
The cooled sample can then be taken to a laboratory for analysis or piped to online process instrumentation for continuous monitoring of properties such as conductivity, pH or other chemical constituents.
Ready to learn more? It's all in our latest application note, Protecting Equipment: Safely cool samples in high temperature plants without water. Download your free copy now by completing the form.