9 Mistakes to Avoid in Your SWAS Specs
Create perfect fossil power plant Steam and Water Analysis System specs every time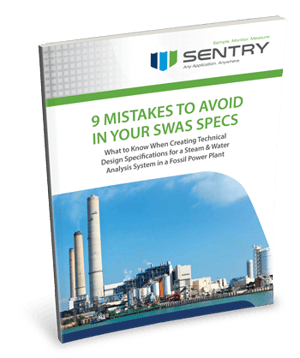 There are nine common mistakes engineers inadvertently make while creating SWAS specs that can lead to issues in your fossil power plant:
Under-specifying, meaning providing too little detail about the equipment needed for optimal steam and water analysis system operation
Overspecifying, meaning sending unnecessary or ancillary information not related to the SWAS
Not providing tubing size within the plant
Not specifying the sample conditioning equipment for maximum operation and function
Not identifying the available utilities
Not specifying the materials requirements
Not specifying what's not wanted
Not specifying the layout and location of the system
Not specifying your preferred analyzer brands and sequencing
Awareness is key in avoiding these mistakes, as is having critical knowledge at your fingertips. That's why we've developed our new eBook, 9 Mistakes to Avoid in Your SWAS Specs. This handy resource and its printable Recommended Systems Components Checklist are sure to be your go-to guide for creating perfect steam and water analysis specs for fossil power plants every time.